Ladies Resilience Buckle Gymnastics Grip (Regular Uneven)
Formerly known as the Ladies Regular Uneven. Let's be honest, these grips are anything but "Regular". They are resilient, strong, and one of a kind - just like you.
Made from high quality, durable leather, the Regular Ladies Uneven grips feature a curved, wide palm piece and white plastic dowel affixed with a 60 lb test monofilament line.

Featuring a wide palm piece, the Regular Ladies Uneven grips combine great palm protection with a curved design that allows the gymnast to feel the bar.

The plastic dowel affixed with monofilament line is a convenient feature for gymnasts who love to use a grip brush. There is no stitching for the dowel to worry about accidentally brushing!

Available in a variety of sizes, the Regular Ladies Uneven grip is a great choice for gymnasts who want sturdy and practical features.

Ideal for compulsory through Elite level athletes, gymnasts who like to use a grip brush, and gymnasts who want more palm protection but still want to feel the bar.

NOT RECOMMENDED FOR young, first time grip wearers under 7 years of age.
We recommend the use of wristbands with these hand grips. US Glove sizing is different from grip to grip. Please make sure you're ordering the correct size for your grip! To order Regular Uneven Grips, take a measurement, in inches, from the wrist to tip of the middle finger and refer to our sizing chart.If you're uncertain as to which grip you should purchase please call one of our team members at (505) 856-7750 for assistance.
*Grips will stretch and wear with use. Leather is a natural product that can degrade over time. Do not use grips that have been unused for 6 or more months. Grips should be replaced after approximately 3-6 months depending on use, or with any signs of damage.  Please see our FAQs page for more info.
Order the size closest to your hand measurment. If your measurement falls exactly between sizes, order the smaller size. If you are uncertain whether you have measured correctly, please give us a call and we will walk you through how best to size.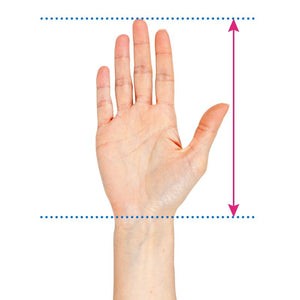 | | |
| --- | --- |
| Size | Measurement |
| 000 | N/A |
| 00 | 5 3/8" |
| 0 | 5 7/8" |
| 1 | 6 1/8" |
| 2 | 6 1/2" |
| 3 | 6 7/8" |
| 4 | 7 1/4" |
---